Recent reports state that Facebook is working on releasing a brand-new 'Creator Studio' app exclusively for Instagram users. Social media analysts speculate that this new dashboard is likely to be similar to the Facebook Creator Studio app, which was released globally in August of last year.
Facebook's Creator Studio was launched along with the much-anticipated feature "Watch." The interface of the Creator Studio is divided into three sections. In the center tab, you can find a list of the posts that you have published. You can search for a particular post using keywords.
On the right side of the UI, you can find insights about posts that you have published in the last seven days, along with other information like – scheduled posts, number of posts published, drafts created in the last 28 days, etc. The left panel allows you to access Creator Studio using various views.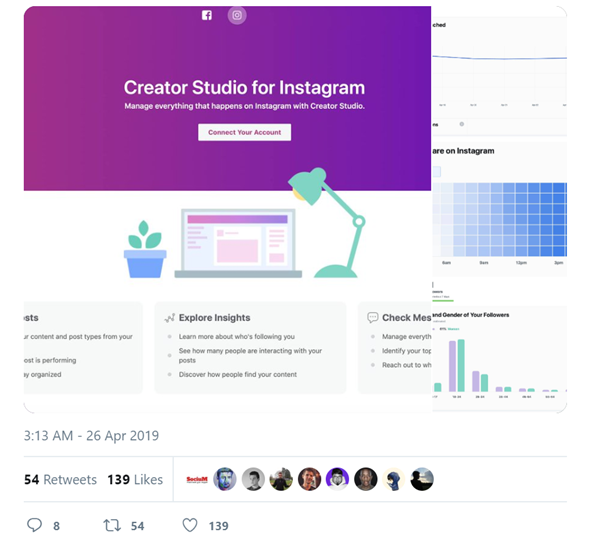 Social media industry consultant and commentator, Matt Navarra, recently tweeted an image of the Creator Studio's Dashboard. Looking at the image, it looks like the new Instagram Creator Studio will be housed as a tab within Facebook's Creator Studio dashboard. Note the toggle button for Instagram and Facebook are at the centre of the screen on top.
What will the Instagram Creator Studio Offer?
The dashboard will enable Instagram users to track and monitor several analytic metrics like – the activity status of their followers and their demographics – age, gender, etc. Additionally, the dashboard will also make it easy to monitor engagement stats of users. When the feature is rolled out, Instagram users will be able to access various metrics including – time periods when your audience is most active, engagement stats and other relevant demographic info.
What will be the Impact of this Change to Users?
It's true that all these details are already available to Instagram Business users. However, the new Creator Studio for Instagram will make all the required details quickly accessible via a handy desktop app. Another major benefit of this new Creator Studio is that Instagram business account holders will be able to utilize a joint asset library for both their Facebook and Instagram accounts.
When will the Creator Studio for Instagram be Available?
Right now, it looks like this feature is being tested, so it's not available for all Insta users. However, since this is a handy feature for Instagram creators, social media commentators believe that the app will be released globally soon.
Once it's made available, it will be a part of the Facebook Creator Dashboard, and you can easily access the Instagram Creator Studio app, by using the toggle button on top. However, to access this feature, you would have to have a connected Instagram account to your Facebook page.