Do personalised emails encourage you to buy certain products?


Let's have a look at the results from last week's survey where we asked people if they prefer to buy any products recommended by influencers.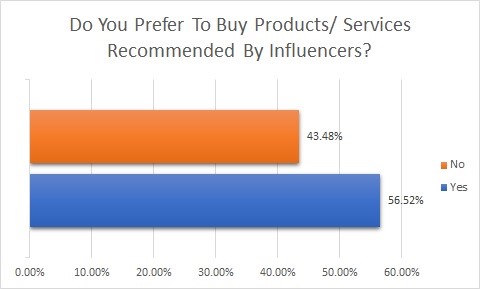 The chart above gives an insight of the total number of people influenced/not influenced by influencers:
About 57% respondents said that they do prefer to buy any products recommended by various influencers.
There is more or less a similar number of people (43.48%) who don't prefer to purchase products recommended by influencers.
Influencer marketing is being used by brands as an effective tool to reach out to their audiences. The audience generally tends to have a better connect with them and hence believe their words as well as recommendations. Probably that's why we see a lot of people actually buying products endorsed by influencers.
On the flip side, since there is an abundance of these influencers as well as brands using the similar set of influencers to market their products, the consumers either get confused with the recommendations or don't know if they should completely trust their opinions. This might be one of the reasons for consumers to not buy products suggested by influencers.
Marketers still do have a hope with influencer marketing as the numbers are not that bad. They just need to have better marketing strategies for using influencer marketing for their brand to really make an impact among the audiences and gain their trust.