According to you, how secure are online transactions?

Here's a look at last week's results where we asked users about their preference of watching video content.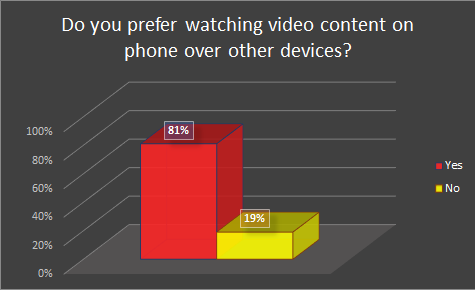 We got some interesting results here.
As evident from the above graph, a majority of the respondents (81%) said that they prefer watching video content on phone and 19% prefer watching it on other devices.
Phone is surely becoming a primary device for people to consume video content. This provides a great opportunity for brands to market their offerings to the masses through a channel preferred by their target audiences.
With various reports suggesting growth in content consumption on phone and the growing popularity of video content among users, marketers are sure to gain immensely by planning their marketing campaigns for mobile phone users. Focusing on video strategies will be an added advantage as the users are inclined towards consuming video content.