How often do you create and post stories on social platforms?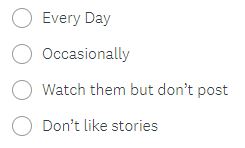 Here's a look at last week's results where we asked users if they search for information shared in promotional content.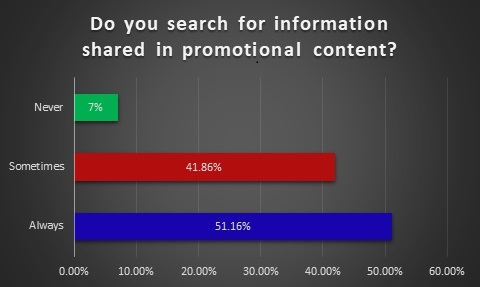 The results are very insightful.
As you can see from the above chart, most of the respondent (51.16%) said that they always look up for information shared through promotional content while other (41.86%) said that they sometimes search for the information shared through such content.
Very few of them (7%) said that they never look up for information shared through promotional content.
Considering the results, brands have a great opportunity to gain consumers' attention by creating promotional content in creative ways using diverse visuals, storytelling ideas, relatable and engaging content, etc. so that the audience is driven to look up for the information.
Since a lot of users are habituated to looking for the information, brands can bank on this habit and work on their promotion strategies by analysing the behaviour of the users, their preferences for content types, etc. and make the most out of it for improving the reach and conversions.