For informational content, what format do you prefer?
Here's a look at last week's results where we asked users about their usage of 'Explore' tab on Instagram.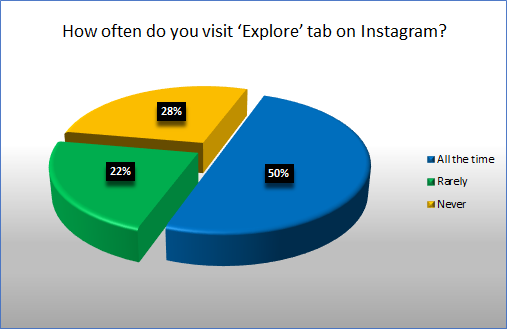 We got some interesting results here.
As you can see from the chart above, 50% of the respondents visit the 'Explore' tab on Instagram all the time while around 22% of them rarely visit it and about 28% of them never 'explore' that feature.
The 'Explore' tab, as we know, is a great way to discover new content. With a huge chunk of consumers using this feature, it provides a great opportunity for marketers to use this space strategically and design the profile in a creative way to gain more engagement and exposure.
Now that Instagram is also planning to introduce ads in the 'Explore' tab, brands can take further advantage of this and make the most out of this space. However, you need to carefully design your activities so as to not overdo it and lose interest of your target audience from exploring this space.