We have started a survey wherein we capture top-of-the-mind views from Indian marketers about various aspects of digital marketing, latest trends, best practices, etc. We, as marketers, are consumers first and hence tend to experience different technologies as a consumer before using them for our clients, etc. This survey will help us understand our consumer side as well as marketer side and come up with useful insights that can further be used by the industry.
For the first week, we asked Indian marketers if they feel voice technology will be the next big thing.Let's have a look at the what the respondents have to say about this.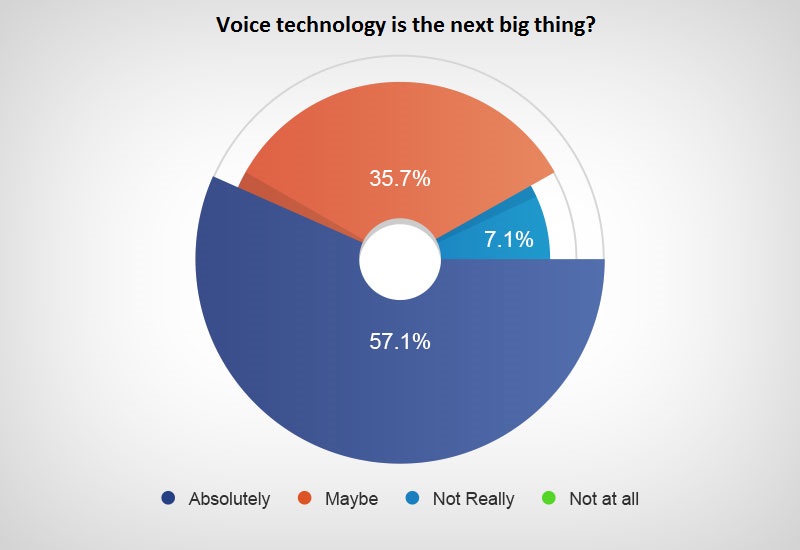 As you can see in the image above, more than half of Indian marketers (57.1%) believe that voice technology is the next big thing. However, there are many marketers who are still unsure about this technology making a great impact in the marketing landscape with 35.7% of them not being confident about voice technology being the big thing. Also, there are a few of them (7.1%) who don't feel that this technology is really a big deal. Surprisingly, there were no respondents who opted for the option 'Not at all' which means that the Indian marketers do see some potential in the technology, some of them are confident about it while others are in two minds about the same. Now, whether or not voice technology will stand up to the expectations of Indian marketers, only time will tell.
Here's a look at some views expressed by some of the marketers on this topic:
"Voice is important, with everyone going ahead with mobile-first approach, brands/marketers have to accept/adopt voice technology to stay in the game. From keypad, to touch and now to voice, user wants more with less interactions."
– Nikhil Sharma, Hyatt
"As marketers, adoption of voice-based technology is still aspirational and not a requirement. Firstly, actionable data about adoption of voice is still largely missing. Secondly, technology has still not matured to cater to diversity of languages and its dialects in India."
– Neeraj Vaishnav, Rankuno
"Voice may be big in the West, but Indian "mass" users love the big screens. Voice recognitions for Indians who use 20+ languages and 100s of dialects and tens of 1000s of accents is simply not common sense. It's simply easier, faster to dial a number or type. More practical. India is also a very noisy country and in small homes with 4-5 residents, why would a teenager use voice? "Siri, show me Katrina Kaif latest item song" in front of his family is not what anyone would try."
– Reem Saied, Wishfin
"Voice is definitely going to be a key aspect in the tech development ahead but as an enabler in the overall scheme of things."
– Abhishek Bhatt, Bajaj Allianz General Insurance Co. Ltd.
Now that we have a fair idea about what the marketers thought about voice technology, it's time for a new question. This week we want to know your views about social media apps. Our question is 'Have you uninstalled any social media apps from your mobile in the last one month?'.
Please share your responses here.