What's the most important thing you look for while doing your holiday bookings online?
Here's a look at last week's results where we asked users about how they use the internet during their travel time.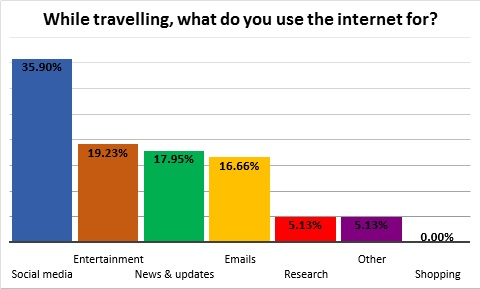 We got some interesting results here.
As you can see, most of the respondents (35.90%) said that they access social media platforms while traveling followed by those who use the internet for entertainment (19.23%) and to check news & updates (17.95%).
Checking emails during traveling is also something that a lot of users (16.66%) do while research work is done by only 5.13% of the respondents and none of these users use the internet for shopping on-the-go. A small chunk of respondents (5.13%) have other reasons to use the internet.
These results speak volumes about the consumer behavior and can help marketers plan their strategies well so that they can target the correct audience for the right things in an effective manner.
Also, the marketing strategies can further be timed based on the usual travel time of users to ensure your promotions are reached to a maximum number of people that can eventually help with overall conversions.