What do you use LinkedIn the most for?

Here's a look at last week's results where we asked users about their mobile device usage for playing games.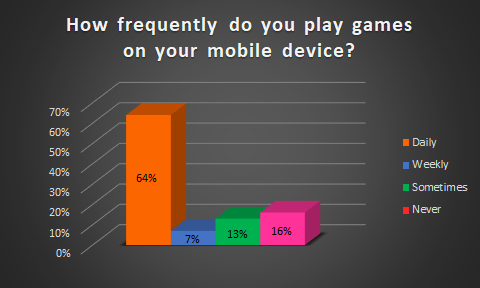 We got some interesting results here.
More than half of the respondents (64%) said that they play games on their mobile devices daily. While 13% of the respondents prefer playing sometimes. 7% respondents said they play games on a weekly basis.
16% of the respondents said that they never play games on their mobile devices.
For brands, there is a great opportunity to reach out to the people who do not play games on mobile and create an effective and actionable mobile marketing strategy to influence this set of customers & induce them to play and possibly convert them into loyal customers.
A lot depends on how marketers choose to capitalize on these opportunities. A mix of acquisition ads, retention & remarketing strategy can help in building loyalty. Also, great content can drive great engagement.
Advertisers also have an opportunity to show in-game ads to reach out to the users and further attract them towards their offerings and boost conversions.