Do the special festival offers on e-commerce sites excite you to purchase your desired product?

Here's a look at last week's results where we asked users about their usage of LinkedIn for professional networking.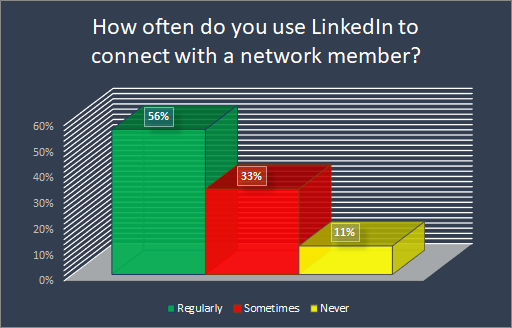 We got some interesting results here.
As you can see, most of the respondents (56%) said that they regularly use LinkedIn to connect with a network member, while 33% of the respondents said that they sometimes use the platform to connect with the people. Around 11% of people never use this platform.
Since several people use LinkedIn for professional networking, brands have an opportunity to be visible in users LinkedIn search results where they look for a colleague, a potential employer, business partner, brand representative, etc.
Brands have the opportunity to reach out to their target audience through this platform to create brand awareness and engage with people that matter the most for their business.
Brands can also publish engaging content on their business page that can attract more users to the company's offerings. Such strategy can also assist the brands to cater to their audiences' concerns and queries.