Being online has become a habit rather than a necessity these days and we have become more dependent on social media apps for a range of daily activities. We spend a considerable amount of our time daily on social platforms and communicate with our friends and families more through these platforms. However, there are a plethora of apps available nowadays and it is not possible to be active and use all of them religiously on a regular basis. It is worth pondering if this has changed our outlook towards the usage of the social apps in any way.
So last week, we asked Indian marketers if they have uninstalled any social media apps from their mobile in the last one month. Let's see what the respondents had to say.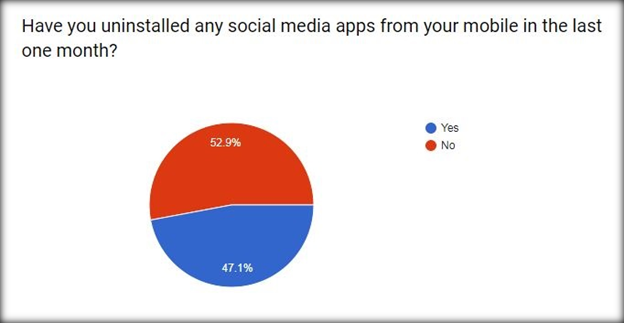 A look at the survey results and you will know that the number of users responding with a 'Yes' or 'No' is almost the same. There are around 53% people who have uninstalled social apps from their mobile in the last one month. However, the number of people who haven't uninstalled any app are no less (almost 47%). Taking into account the above numbers, are people slowly getting away from their virtual lives these days? Maybe not; since the number of people who are still glued to the social apps are pretty large. This creates a huge opportunity for marketers to target their audiences for various campaigns through this channel. It is surely going to take some more years for people to move away from the social apps or maybe the introduction of a new innovation that is interesting enough to shift the users' focus from these apps. Until then, social media is surely going to flourish.
Here's a look at an interesting view shared by one of the respondents on this topic:
"Being a part of the digital network, we need to keep ourselves updated on all the latest innovations that are happening around us. Social Media platforms, as observed, are mostly the first users or adapters or creators of any new innovation that happens. Hence, uninstalling them right now is not in the bucket list, but the usage of these apps on personal front has drastically gone down"
– Surabhee Gupta, HDFC Life
After analysing the usage of social media apps, it's time for the next question. This week we want to know your views about deals and special offers. Our question is 'Do you think deals and special offers trigger mobile sales?' Please share your responses here.