Are you part of the social media crowd that still uses Facebook to post updates regularly or do you belong to the larger Facebook user group, who silently swipes through the news feed?
Then, we've got some exciting news for you. Your news feed is about to look different.
According to reports by SocialMediaToday, Facebook is testing new font styles for posts on the news feed. Facebook users would now be able to use a range of text effects while updating posts on their news feed.
As of now, Facebook allows users to change the background of the posts. So, instead of posting on the plain white background of the news feed, users were able to alter the background color, to make their posts stand out in the news feed.
Recent reports suggest that Facebook is working on providing font effects to its posts, which wasn't available before.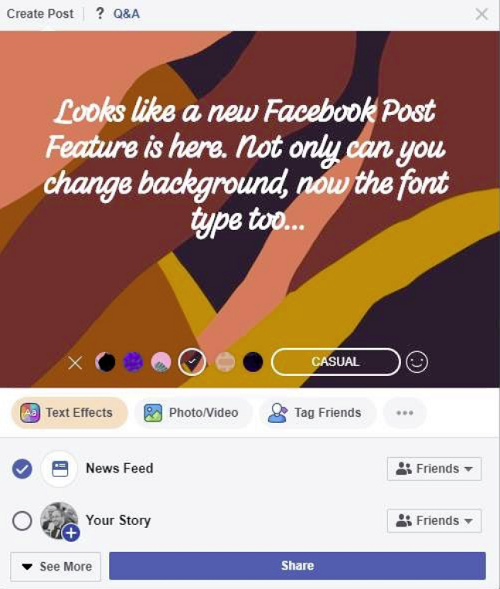 As you can see, when posting updates on Facebook from desktop, users now have the option for adding "Text Effects."
What are the available Text Effects?
Currently, Facebook offers five text features to choose from. Rather than being able to select specific font styles, users would be able to choose only font effects. The available options include:
Casual
Headline
Clean
Simple
Fancy
Is this update available on mobile?
As of now, there is no information on whether Facebook plans to roll out this update to all users including mobile users. Right now, it looks like Facebook is just testing this feature, making it available only for a few users.
What's the impact of this new update?
While font effects work well in stories (since it's a highly visual focus tool), social media commentators are perplexed by the relevance of this new feature in the News Feed. And, since users can already add a colorful background to their posts, this latest update doesn't provide users with much of a leap.
And, there's the chance that this update could make the news feed look messy. As of now, there is no official data on the number of people who make use of Facebook's colored backgrounds. Apart from the occasional attention-grabbing post, most users don't use colored backgrounds when they post on their news feed since it isn't the default option.
Currently, Facebook offers these font features only to users who create Facebook stories. It's interesting to see this feature being extended to regular posts. Social media experts believe that Facebook is trying to get users to post more frequently by providing them with added features and to familiarise them with Facebook Stories, the tool which the company wants user attention to shift to.
Experts caution that these latest updates can get old really quick and could put off users from the news feed if it becomes cluttered with different font styles and backgrounds.
As of now, Facebook has not provided any official update on whether this feature will be available to all or only for desktop users.