Unlock consumer insights with Google Analytics – track data and optimize marketing efforts.
Google Analytics (known as GA) is a web analytics tool that allows you to measure the marketing funnel from acquisition to conversion. Being a web analytics service offered by Google that tracks data points, you may think of Google Analytics as a whiteboard to strategize your digital marketing efforts. It gives quantified insights about your target audience, user acquisition, user engagement and conversion. Therefore, Google Analytics is, in many ways, is a platform that gives you inner, back-end, and real-time access to what your consumers desire.
The Advanced version of Google Analytics, i.e Google analytics 360 provides tools and support for large enterprises. With more customization, scalable tools, and enterprise-level support, it assists marketers to gain a comprehensive perspective of their online marketing activities. 
Google Analytics 360 is part of the Google Marketing Platform, which brings together Google's enterprise advertising and marketing products that enable marketers to plan, implement, monitor, and improve digital media and customer experience seamlessly; In addition to that it can also be integrated with third party platforms such as Sales force and cloud platforms such as Big Query.

Google Analytics 360 Feature

Google Analytics Standard Feature
What suits you better: GA Standard or GA360?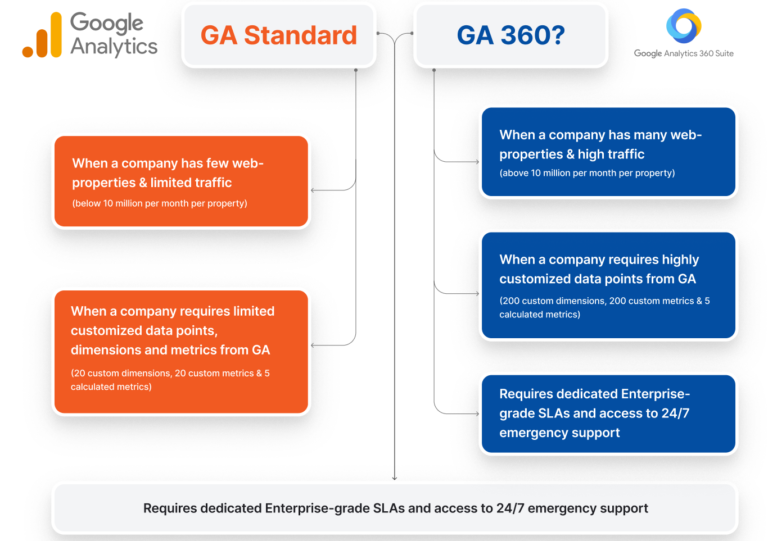 Benefits of
Partnering with us?
LS Digital is a Certified Google Premier Partners for Google Products & Authorized Resellers of Google Analytics 360. 
Since GA 4 is a new and evolving technology it's critical to implement GA 4 from Google-certified implementation professionals. 
Being a Premium Partner of Google, we are better positioned for having immediate access to Google for their support. 
Reach out to our specialist team to initiate the conversation
Fill your details, and our team will contact you.