Unlock the potential of your digital marketing with our expert GA4 adoption services. 
It is a known fact that Universal Analytics is going to stop tracking from 1st July 2023, here's why: 
Considering the rising bar in the user privacy laws around the world and change in core technologies like cookies, Google has made a a significant technology leap that will alter the way businesses analyze their traffic.

It's no secret that we are living through a period of immense change and user privacy is on the top of everyone's mind. Around the world, regulatory changes have raised the bar for user privacy. On the same lines browsers and other platforms are making changes into core technologies such as cookies.

 

Obviously, a privacy centric ecosystem would be a 'positive ' for humanity, but for us digital marketers it is a 'nightmare', because the measurement systems on which we have relied for years will be soon going for a toss.

 
Foreseeing these industry changes Google has created a new, more intelligent Google Analytics that builds on the foundation of the App + Web property. It is privacy-centric by design, so you can rely on Analytics even as industry changes like restrictions on cookies and identifiers create gaps in your data. 
Now here's what you need to know- Your Universal Analytics data won't be migrated to GA 4! Therefore, its high time to shake off the inertia and adopt Google Analytics 4 as it is going to be a mandatory upgrade for everyone. Google itself is suggesting everyone to migrate to GA 4 as soon as possible, cause like any ML platform, to rely on GA 4 you need enough data repository in it. Additionally, GA 4 isn't an option anymore, it's a compulsion!  It is therefore advised to switch to GA 4 as soon as possible. 
Designed to step up from traditional tracking, GA 4 gears you up for an ML based Analytics. Giving you a wholistic perspective of your audience GA 4 ensures you are enabled with bespoke marketing approach with the wide integration possibilities and we at LS Digital ensure the adoption of the same is seamless and error-proof.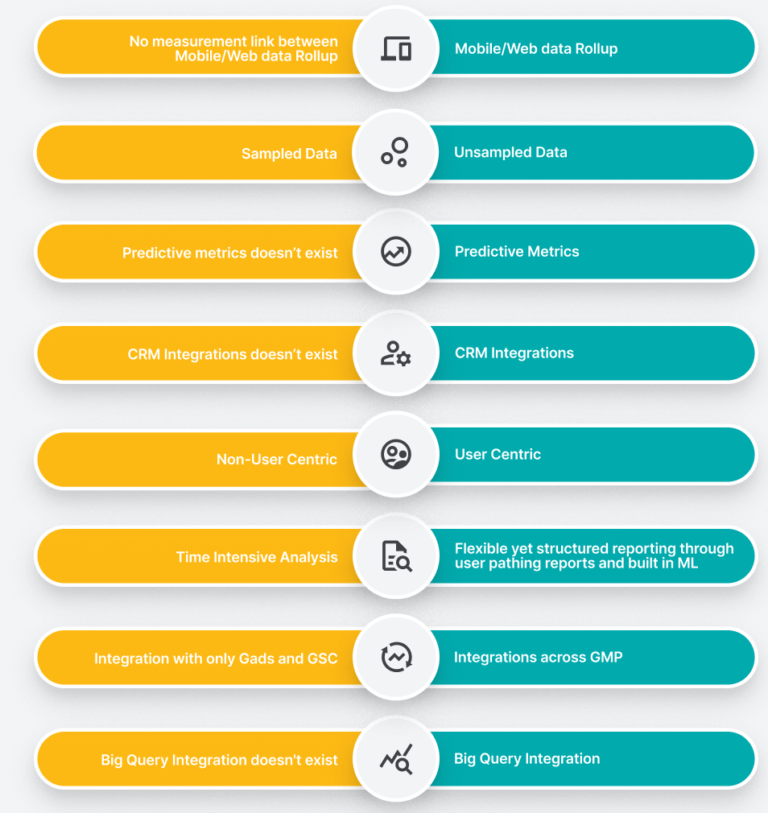 LD's i4 for GA4 Framework

Benefits of
Partnering with us?
LS Digital is a Certified Google Premier Partners for Google Products & Authorized Resellers of Google Analytics 360. 
Since GA 4 is a new and evolving technology it's critical to implement GA 4 from Google-certified implementation professionals. 
Being a Premium Partner of Google, we are better positioned for having immediate access to Google for their support. 
Moreover, our Google certified GA specialist have helped 30+ clients already in GA 4 migration journey and have worked on 100+ GA projects. 
Get answers to your questions like:
Reach out to our specialist team to initiate the conversation
Fill your details, and our team will contact you.